Recombinant Human AXL protein,C-His Tag
发布日期: 2021-02-03
更新日期: 2023-11-16
| | |
| --- | --- |
| 产地 | 中国 |
| 品牌 | Frdbio |
| 货号 | FrdE00008 |
| 纯度 | % |
| 规格 | 100ug/1mg |
Recombinant Human AXL protein,C-His Tag
Product name:Recombinant Human AXL protein,C-His Tag
Catalog No. : FrdE00008
Purity:>90% as determined by SDS-PAGE
Construction:A DNA sequence encoding the human AXL (Met1-Pro449) was fused with the C-His Tag
Host:Mammalian cells
Species:Homo sapiens (Human)
Predicted Molecular Mass:46.5KDa
Formulation:Supplied as solution form in PBS pH7.5 or lyophilized from PBS pH7.5 .
Shipping: In general, proteins are provided as lyophilized powder or frozen liquid. They are shipped out with dry ice or blue ice unless customers require otherwise.
Stability &Storage:Use a manual defrost freezer and avoid repeated freeze thaw cycles.
Store at 2 to 8 °C for one week .
Store at -20 to -80 °C for twelve months from the date of receipt.
Reconstitution:Reconstitute in sterile water for a stock solution.A copy of datasheet will be provided with the products, please refer to it for details.
SDS-PAGE image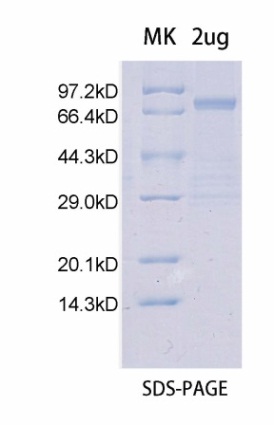 Note: This product is for research use only,not for diagnostic or therapeutic use.