Protein A ELISA Kit
Intended Use

Protein A ELISA Kit is intended for use in quantitating unnatural protein A constructs such as Recombinant Alkali-tolerant Protein A. The kit is for Research and Manufacturing Use Only and is not intended for diagnostic use in humans or animals. This kit is designed to provide a validated acidifing sample treatment method to dissociate Protein A from IgG products and detect Protein A contamination to less than 78pg/mL in the presence of up to 3mg/mL quantities of humanized monoclonal antibodies.
Principle of the Assay
Protein A ELISA kit applies the quantitative sandwich enzyme immunoassay technique. The microtiter plate has been pre-coated with a monoclonal antibody specific for Protein A. Samples containing Protein A are first diluted in the Sample Diluent provided with the kits. The Denaturing Buffer is then added and mixed to dissociate the Protein A from the product antibody. The samples are then reacted in microtiter strips coated with a monoclonal anti-Protein A capture antibody. A second anti-Protein A biotinylated monoclonal antibody is simultaneously reacted forming a sandwich complex of solid phase antibody-Protein A:biotin labeled antibody. After a wash step to remove any unbound reactants, Streptavidin labeled HRP is added to each well. After a short incubation period, the strips are then reacted with TMB substrate. The enzyme-substrate reaction is terminated by addition of a sulphuric acid solution and the color change is measured spectrophotometrically at a wavelength of 450 nm. A standard curve is plotted relating the intensity of the color (O.D.) to the concentration of standards. The Protein A concentration in each sample is interpolated from this standard curve.
Materials & Equipment Required But Not Provided
1. Precision pipettors and disposable tips to deliver 10-1000 μl. A multi-channel
pipette is desirable for large assays.
2. 100 mL and 1 liter graduated cylinders.
3. Distilled or deionized water.
4. Tubes to prepare sample dilutions.
5. Microplate reader capable of measuring absorbance at 450 nm.
6. Data analysis and graphing software.
Materials Provided
Component

Product #

Storage

1. Protein A Standard

Recombinant Alkali-tolerant Protein A in a protein matrix with preservative, 50μg/mL, 1x0.1mL

Bk031

2-8°C

2. Biotinylated Antibody

Biotinylated anti-protein A monoclonal antibody in a protein matrix with preservative, 1x13mL

Bk016

2-8℃

3. Sample Diluent

Tris buffered saline with a protein matrix and preservative, 1x30mL

Bk017

2-8℃

4. Denaturing Buffer

Citrate buffer with detergent and preservative, 1x20mL

Bk018

2-8℃

5. 10x Assay Buffer

phosphate buffer with preservative, 1x30mL

Bk005

2-8℃

6. Streptavidin labeled HRP

Streptavidin labeled HRP in a protein matrix with preservative, 1x13mL

Bk019

2-8℃

7. TMB Substrate

3,3',5,5'Tetramethylbenzidine, 1x13mL

Bk007

2-8℃

8. Stop Solution

2M sulphuric acid, 1x13mL

Bk008

2-8℃

9. Monoclonal anti-Protein A Coated plate of 96 wells

12x8 well strips in a bag with desiccant

Bk032

2-8℃
Reagents Preparation
1. Bring all kit components and samples to room temperature (20-25 °C) before use.
2. Wash Solution - Dilute 30 mL of Wash Solution concentrate (10×) with 270 mL of deionized or distilled water to prepare 300 mL of Wash Solution (1×). If crystals have formed in the solution, warm to room temperature and mix gently until the crystals have been completely dissolved. The 1× wash solution is stable for 2 weeks at 2-8°C.
3. Dilution of Standards
Label eight tubes 1# through 8#. Pipet 990 μL Sample Diluent into tube 1# and 2#, 500 μL Sample Diluent into tubes 2-8#. Add 10μL of the 50μg/mL standard to tube 1#. Vortex thoroughly. Add 10μL of tube 1# to tube 2# and vortex thoroughly. Add 500μL of tube 2# to tube 3# and vortex thoroughly. Continue this for tubes 3# through 8#.

The concentration of RAT-PA in tube 2# through 8# will be 5、2.5、1.25、0.625、0.3125、0.156、0.078ng/mL respectively. Label one tube as the Zero Standard(0 ng/mL). Pipet 500μL Sample Diluent into this tube.
4. Do not dilute the other components which are ready to use.
Sample Treatment Procedure
1. Prepare initial sample dilutions as required prior to sample treatment. Transfer to the appropriate wells of the Sample Treatment Plate (96 wells) or EP tubes.
2. All subsequent dilutions to be assayed can be made in the STP using Sample Diluent. Ensure final volume in every well is 100μL.
3. Add 100μL of the kit standards and controls to the wells.
4. Add 50μL of Denaturing Buffer to each well. Mix by pipetting up and down ~15 times(if using EP tubes, vortex for a few seconds). Use fresh tips for each addition.
5. Incubate on the bench for 5 – 10 minutes.
Procedural Notes
1) For Research or Manufacturing use only.
2) Stop reagent is 2M H2SO4. Avoid contact with eyes, skin, and clothing. At the concentrations used in this kit, none of the other reagents are believed to be harmful.
3) This kit should only be used by qualified technicians.
4) High or low pH, detergents, urea, high salt concentrations, and organic solvents are some of the known interference factors. pH has a big impact on ELISA. So you must determine your sample pH and adjust it to 7.0-7.4.
5) If crystals have formed in all the reagents, warm to room temperature and mix gently until the crystals have completely dissolved.
6) If you have any problems of this process, you can contact Tech Department of our company
Assay Protocol
1. Pipette 100μL of the Biotine-Conjugated detection antibody into each well of the antibody coated microtiter plate.
2. Pipette 25μL of the denatured standards, controls and samples into wells indicated on work list.
3. Cover & incubate for 1 hour at room temperature, 24°C ± 4°C. Dump contents of wells into waste. Blot and gently but firmly tap over absorbent paper to remove most of the residual liquid. Overly aggressive banging of the plate or use of vacuum aspiration devices in an attempt to remove all residual liquid is not necessary and may cause variable dissociation of antibody bound material resulting in lower ODs and worse precision. Fill wells generously to overflowing with diluted wash solution using a squirt bottle or by pipetting in ~250μL. Dump and tap again. Repeat for a total of 4 washes.
4. Pipette 100μL Streptavidin labeled HRP to each well, Cover & incubate for 10 minuts at room temperature, 24°C ± 4°C. Fill wells generously to overflowing with diluted wash solution using a squirt bottle or by pipetting in ~250μL. Dump and tap again. Repeat for a total of 4 washes. Do not allow wells to dry before adding substrate.
5. Pipette 100μL of TMB substrate.
6. Incubate at room temperature for 10 minutes. DO NOT SHAKE.
7. Pipette 100μL of Stop Solution.
8. Read absorbance at 450/630nm.
Calculation of Results
The standards may be used to construct a standard curve with values reported in ng/mL. The data should be plotted as OD versus concentration through computer methods using curve fitting routines such as point-to-point, spline, 4 parameter logistic fit or nth order polynomial linear regression curve-fit. Do not use linear regression analysis to interpolate values for samples as this may lead to significant inaccuracies!
Data may also be manually reduced by plotting the absorbance values of the standard on the y-axis versus concentration on the x-axis and drawing a smooth point-to-point line. Absorbances of samples are then interpolated from this standard curve.
Typical Data of Standards:
Standard(ng/mL)

OD of duplicates

Average

Except zero

5

2.085

2.096

2.0905

2.063

2.5

1.294

1.272

1.283

1.2555

1.25

0.737

0.743

0.74

0.7125

0.625

0.43

0.436

0.433

0.4055

0.3125

0.227

0.214

0.2205

0.193

0.156

0.142

0.128

0.135

0.1075

0.078

0.088

0.079

0.0835

0.056

0

0.027

0.028

0.0275

-
Typical Standard Curve: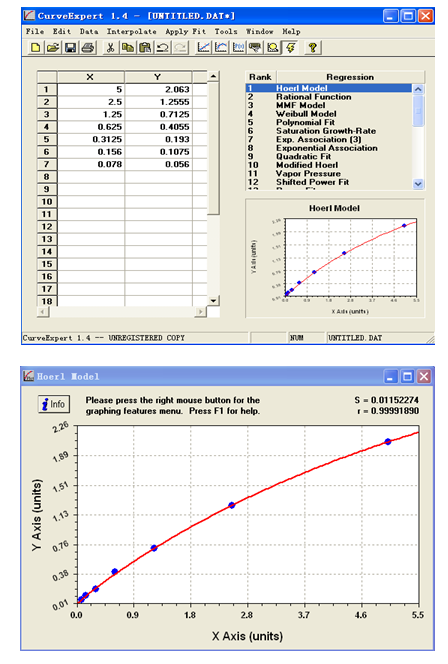 Performance Characteristics
Precision on duplicate samples should yield average % coefficients of variation of less than 10% for samples greater than 0.3 ng/mL. CVs for samples < 0.3 ng/mL may be greater than 10%.
It is recommended that each laboratory assay appropriate quality control samples in each run to insure that all reagents and procedures are correct. You are strongly urged to make controls in your typical sample matrix using your product antibody. These controls can be aliquoted into single use vials and stored frozen for long-term stability.
Spike Recovery: 85.8-103.4%
Sensitivity: The sensitivity of this kit is 20 pg/mL;
Hook Capacity
This is a one-step sandwich ELISA kit which might be affected by hook capacity, especially when the concentration is high. To reduce the hook effect, you had better dilute your sample and make the concentration is within the detection range of this kit.The hook capacity, defined as that concentration which will give an absorbance reading less than the 5 ng/mL standard, was 10 μg/mL.